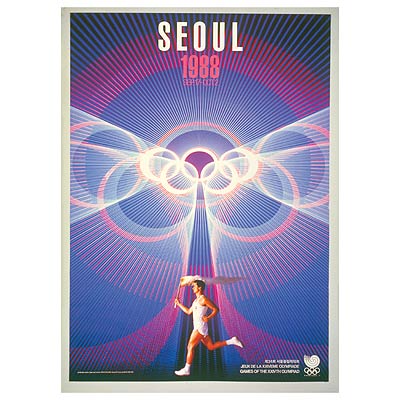 From September 17 till October 2 the South Koreans organized an outstanding Olympiad with 9,367 athletes (2,708 women) from 169 nations.
Seoul left the brightest trace in the Bulgarian Olympic history. Record number of 10 titles were taken! At the Champion's pinnacle climbed Ivaylo Marinov (Boxing), Atanas Komshev (Wrestling), Sevdalin Marinov and Borislav Gidikov (Weightlifting) Yordanka Donkova and Hristo Markov (Athletics), Lyubomir Geraskov (Gymnastics), Tanya Bogomilova (Swimming), Vanya Gesheva (Canoe/Kayak) and Tanyo Kiryakov (Shooting).
Vice-champions became  Vessela Lecheva (Shooting),  Adriana Dunavska (Rhythmic Gymnastics), Stefka Kostadino-va (High Jump), Antoaneta Frenkeva (Swimming), Alexander Hristov (Boxing), wrestlers  Rangel  Gerovski,  Zhivko Vangelov, Stoyan Balov and Ivan Tzonov, weightlifter  Stefan Topurov,  Lalka Berberova and  Radka Stoyanova (Rowing), Vanya Gesheva and Diana Paliiska  (Canoe/Kayak). With bronze came back Magdalena Georgieva, Violeta Ninova and Stefka Madina (Rowing), weightlifter  Alexander Varbanov, wrestlers Rahmat Sukra, Simeon Shterev and Bratan Tzenov, Martin Marinov and Nikolay Buhalov (Canoe/Kayak), Tzvetanka  Hristova (Athletics), Antoaneta  Frenkeva  (Swimming), Diana Dudeva (Gymnastics-Artistics), Manuela Maleeva (Tenis) and (Canoe/Kayak) K4 of Vanya Gesheva, Borislava Ivanova, Diana Paliiska and Ognyana Petkova.
The athletes from USSR won 132 medals (55 gold). With six titles from three different styles in Swimming Kristin Otto (GDR) was the most successful athlete.