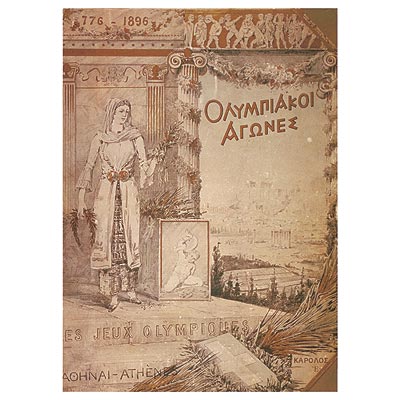 It was natural for the people behind the restoration of the ancient Olympic Games to give Greece the hosting of the first modern Games. The idea of the organizers was to have the Games at the antique stadium in Olympia, but prohibitively high cost for its restoration prevented this.
On April 6, 1896 King George I of Greece opened the First modern  Games.  The in Athens in the  presence spectators. The tries. To our national pride Bulgaria was among them. Those countries sent to Athens 245 athletes (only men) to compete in 9 disciplines. 40,000 people watched the swimming com-petition. Greece won most medals -47 (10 gold). The hero of the
Games became the post office clerk Spiros Louis, winner of the Marathon.
The biggest merit for Bulgaria's participation at the Olympic debut goes to the teacher Todor Yonchev who was chairman of the Sofia gymnastics club "Yunak". He took 4 members of  his  club  to Athens, but only Charles Champaud participated. Champaud was one of the 12 Swiss gymnastic teachers who arrived in Bulgaria by the end of the 19th century.  Although  he could not win a medal, Bulgaria is proud to this day with its first participant in the modern Olympics.
Each winner in Athens received a medal, diploma, a laurel wreath and olive branch from the Sacred Woods in Olympia.